We're a growing team!
Stores - one in Notting Hill and another in Mayfair
Studio Head Office based in Notting Hill
Who are we?
Penelope Chilvers is a high-end contemporary British footwear and accessory brand that manufactures in Spain.
Unique in the womenswear sector for making footwear to last, using specialist welt stitch constructions with hard-wearing, high-quality components.
At the heart of our brand DNA is a Spanish equestrian aesthetic and authentic artisan craftsmanship.
An always evolving design and inspiration approach incorporates current trends, to attract new customers and keep us relevant in the fashion landscape.
Our 'classic-with-a-twist' designs, distinguish us from the crowd and our boots are often referred to as 'old friends' for their dependability and seasonless wearability.
Our Vision
We live in a fast changing unpredictable
world that challenges our sense of self, that
can feel threatening and unsafe.
Penelope Chilvers is an antidote to fast fashion, to insecurity and uncertainty.
Our back-to-slow approach provides a haven our community enjoy and will stay loyal to,
investing in what we stand for, as a heritage
brand with a strong sense of self.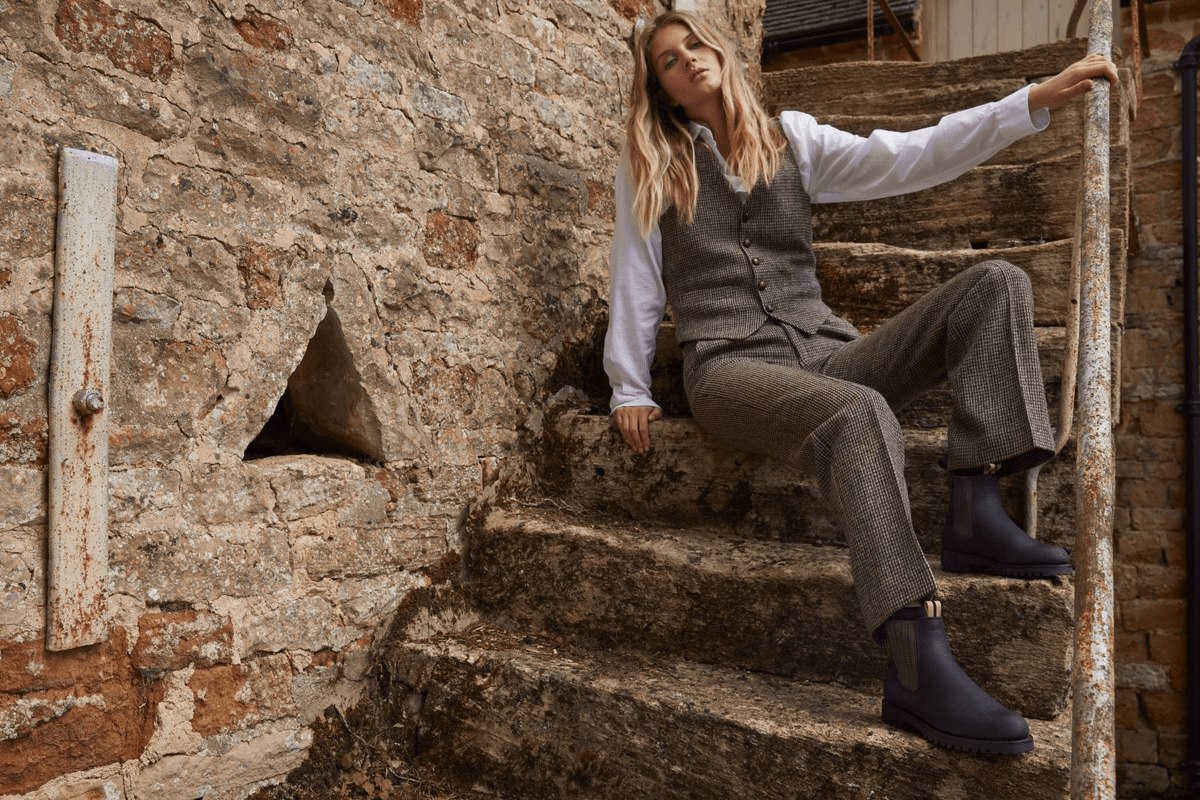 Our Purpose
We want to gently empower our customers
to feel they can 'go anywhere do anything'
by supplying our customers with timeless,
enduring and luxurious footwear, that they
can depend upon, day in day out.
Our aim is to provide an experience
that transcends the ordinary, to deliver
exceptional products and customer service.
Workplace Culture
We encourage every employee to understand the importance of their contribution to the overall success of the business. Everyone has a role to play and we encourage regular performance reviews to help people to reach their full potential.
We all take responsibility for meeting the requirements of our individual and team roles and we don't shy away from going above and beyond the call of duty when a situation warrants it, or when our colleagues need our help.

We acknowledge and respect that we are all different. We aim to build strong personal relationships and we value the different skills and attributes that make up a diverse and effective team.
We are all passionate about the areas in which we work and strive to be the best we can be in our individual fields. But that doesn't come at the cost of stepping on each other to get there.
We care about the company and we care about each other and we believe in maintaining a creative, informal, friendly and engaging working environment.
Our Benefits
🏄🏻‍♀️ 33 days paid holiday

We value that you get more time with your family and friends. Therefore we offer everybody 33 days paid holiday (including Bank Holidays).

👢 Generous product allowance

We want our team to walk in PC and be advocates of the brand so each team member gets between 2-4 pairs of PC boots and/or shoes per year!

👩🏻‍⚕️ Healthcare cash plan

Helping our employees to cover various healthcare costs such as routine dental and optical care, prescriptions, complementary and alternative therapies; as well as help with getting specialist consultations, diagnostic tests and scans, counseling and health screening etc.

💰 Pension

Helping our employees plan for the future, we offer a 5% employer contribution as part of our auto enrol pension scheme.

💓 Life assurance

Offering our employees peace of mind that their named beneficiary will receive 4x the employee's annual salary should the unthinkable happen.

🛍️ Salary Xtras

Providing our team with a little extra help to make their salaries go further - Salary Xtras is a web portal offering discounted shopping, holidays, cinema & gym membership etc; cycle2work scheme; travel loans to spread the cost of commuting and an employee assistance service for unlimited access to specialist support e.g. legal and financial advice.

🕐 Flexible working hours

We value work-life balance highly, therefore we try to be flexible with working hours where possible and many roles operate on a remote or hybrid basis - whatever works best for the individual, team and the company.

🕺 Regular social & team events

We try to get together regularly to celebrate our successes as a team.
Our Team Behaviours
Be Creative

•Think outside the box

•Open to new ideas

•Focus on finding solutions

•Evolve and embrace change

Be Collaborative

•Share information and ideas

•Work towards a mutual goal

•Seek to understand one another

•Build relationships & support each other

•Communicate, communicate, communicate!

Be Authentic

•Have passion & purpose

•Take pride in the brand

•Respect each other

•Show openness, honesty and transparency

•Stay true to yourself

Be Courageous

•Keep moving forward with determination

•Embrace feedback and take ownership

•Try different ways – test and learn

•Take calculated risks

•Drive yourself to succeed

Be Effective

Keep it simple & avoid complexity

Plan ahead, set clear goals, deliver results and make a difference

Capture relevant data, draw conclusions and make informed decisions

Take responsibility and 'make it happen'

Promote continuous improvement
Already working at Penelope Chilvers?
Let's recruit together and find your next colleague.